We offer a wide range of eco-friendly innovative and unique products and look at every day to day needs that make the world clean, green, and safe with the help of Sketch, a manufacturer of NANO SHIELD based in Japan, GAINA (Ceramic Coating) & LIQUICOOL (Car Glass Coating)

Sketch
Heat shield, heat insulation, UV cut to control the heat transfer of windows. It is very economical because it is more than twice as durable as a thermal barrier film.
Read More

Gaina
GAINA has the strongest ceramic against ultraviolet rays multilayered, and has the durability of 2 to 3 times more than ordinary paint, which also can minimize the expansion and shrinkage of the building by heat insulation performance.
Read More

Car Glass Coating
Glass Coating adds a layer of glass (SiO2) above the surface, protecting your vehicle's glass from contaminants, scratches, and swirl marks.
Coming Soon
About Us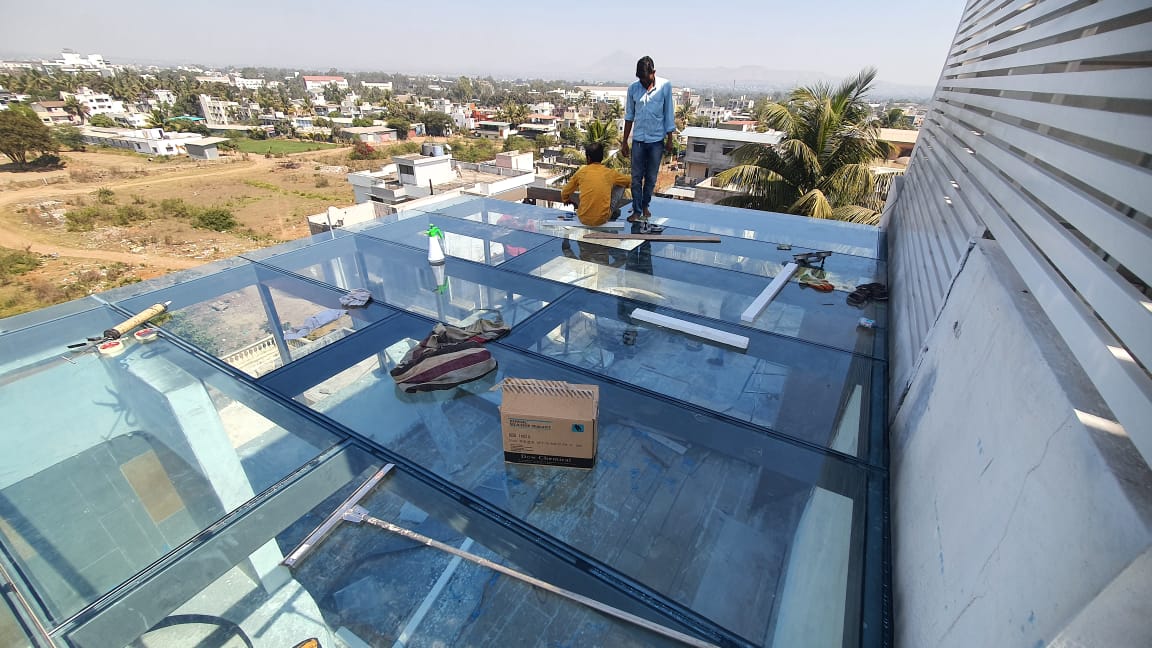 The Urge. The Passion and the Team behind Juggernaut!
We offer a wide range of eco-friendly innovative and unique products and look at every day to day needs that make the world clean, green, and safe.
Our main goal is to deliver effective, efficient and sustainable eco-friendly solutions across every need, that encourage people towards a more eco-friendly lifestyle. Recognizing the growing issue of an ever-expanding carbon footprint in, in our day-to-day lives, Juggernaut has set its main objective to reduce the carbon footprint directly through our operations as well as indirectly through our customers.
We provide value-added commodities to local businesses, households as well as to the environment.
Appreciation Letters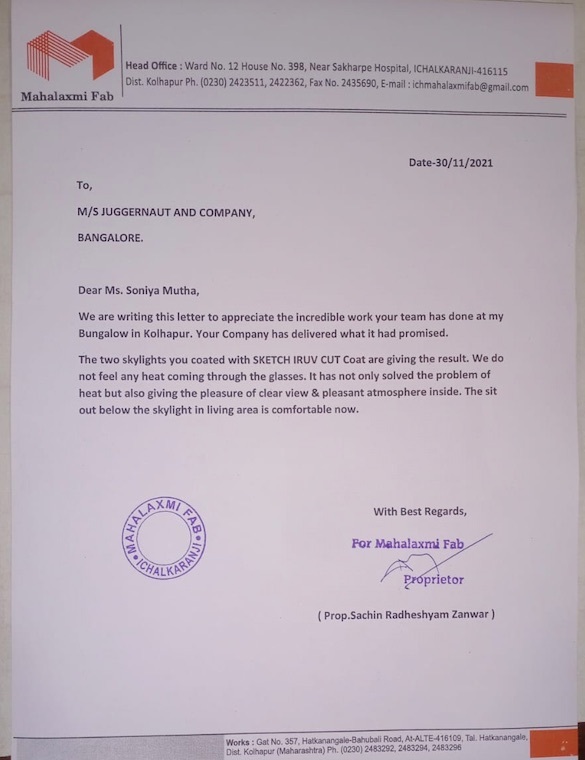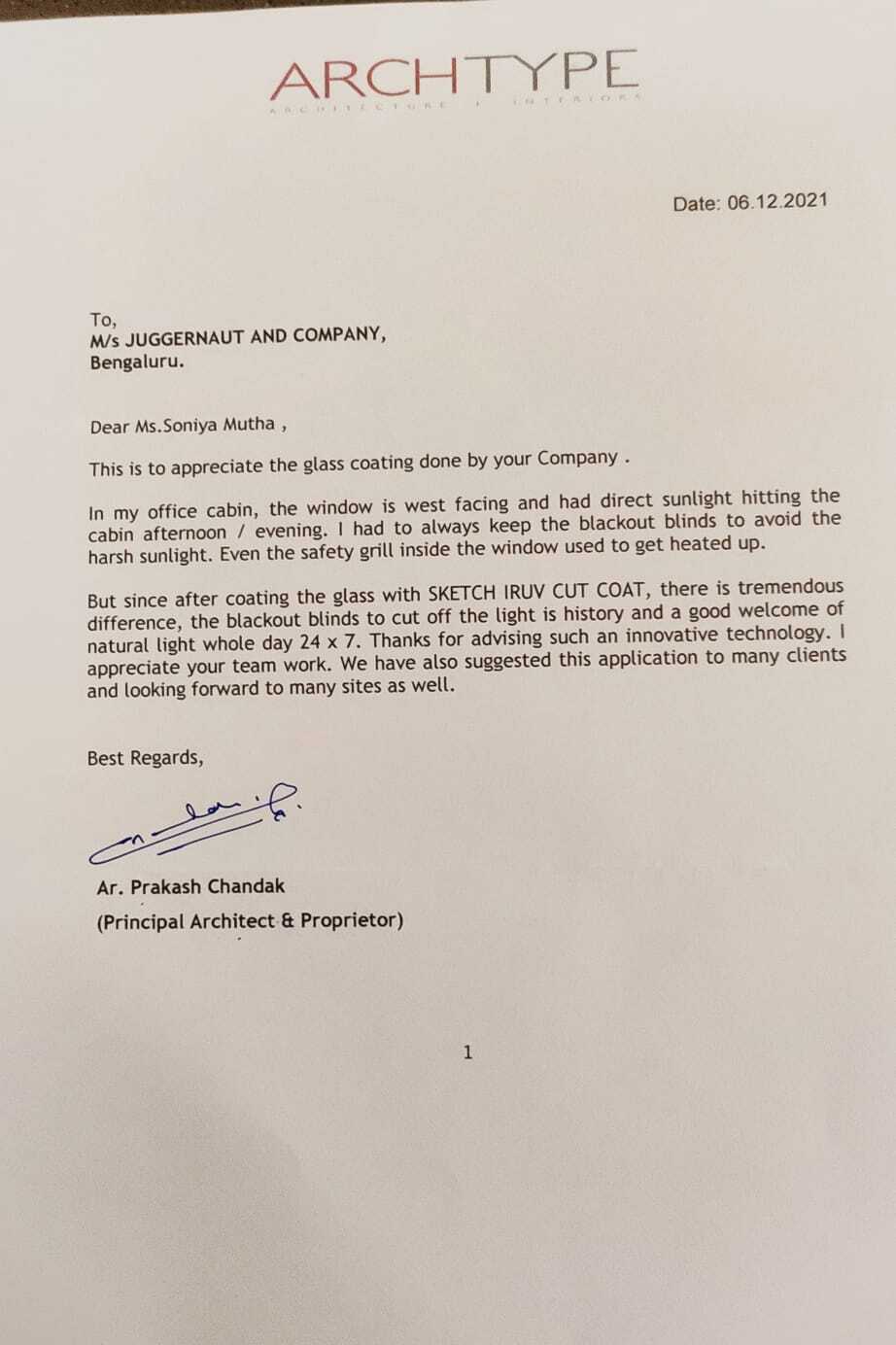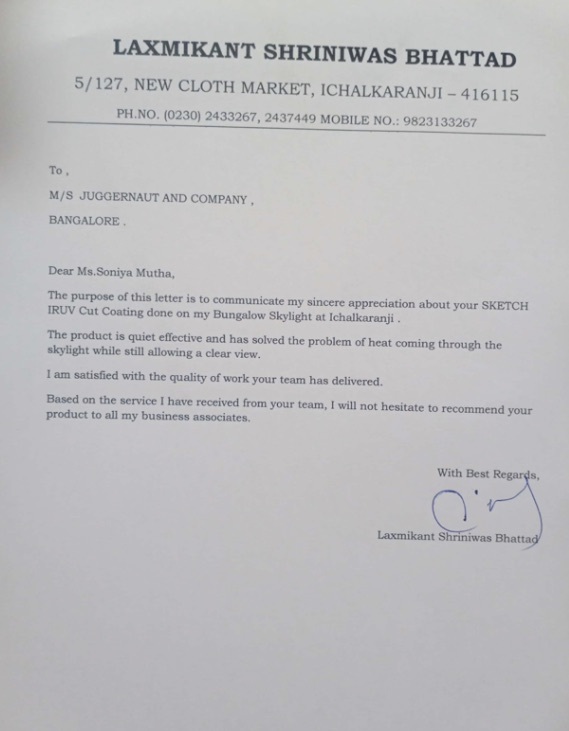 Testimonials From Clients
This is to appreciate the glass coating done by your Company . In my office cabin, the window is west facing and had direct sunlight hitting the cabin afternoon / evening. I had to always keep the blackout blinds to avoid the harsh sunlight. Even the safety grill inside the window used to get heated up. But since after coating the glass with SKETCH IRUV CUT COAT, there is tremendous difference, the blackout blinds to cut off the light is history and a good welcome of natural light whole day 24 x 7. Thanks for advising such an innovative technology. I appreciate your team work. We have also suggested this application to many clients and looking forward to many sites as well
The purpose of this letter is to communicate my sincere appreciation about your SKETCH IRUV Cut Coating done on my Bungalow Skylight at Ichalkaranji The product is quiet effective and has solved the problem of heat coming through the skylight while still allowing a clear view. I am satisfied with the quality of work your team has delivered. Based on the service I have received from your team, I will not hesitate to recommend your product to all my business associates.
We are writing this letter to appreciate the incredible work your team has done at my Bungalow in Kolhapur. Your Company has delivered what it had promised. The two skylights you coated with SKETCH IRUV CUT Coat are giving the result. We do not feel any heat coming through the glasses. It has not only solved the problem of heat but also giving the pleasure of clear view & pleasant atmosphere inside. The sit out below the skylight in living area is comfortable now.